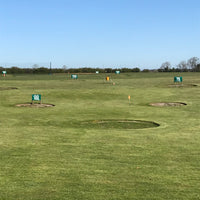 Driving Range
Join us at Ripon Golf Range to learn, practice and have fun!
£3.00 for 30 Balls
£6.00 for 60 Balls
£8.00 for 90 Balls
£10.00 for 120 Balls
Payments are made by card on the ball vending machine.
A discount card is available to be purchased from reception when open.
Testimonials
It is a well presented facility and deserves those who wish to improve their game or just to loosen up to use what is in my opinion a high quality golfing range . It needs the support to continue and maintain it's high standard .

Batty Martin
Great range, decently priced and usually quiet.

David Newell